Autumn in Abruzzo
Olive Harvest & Vino Novello
November 2022
Autumn in Italy is one of it's most magical seasons. Copper and crimson vineyards, hearty pastas
and soups, roasted chestnuts, and deep red wines are sure to warm your soul.
​
Savor the local cuisine... porchetta, warm sheep's milk ricotta, chocolate and chili
peppers, and take part in an ancient festival and taste the first harvest's olive oil and "vino novello."
​
​
Your home in Italy, Sextantio "Albergo Diffuso"
​
Sextantio is not one hotel, but a handful of exquisitely renovated apartments, scattered throughout the ancient village of Santo Stefano di Sessanio, inside of the Grand Sasso National Park.
​
Traditional handcrafts are reflected in every detail: natural colors, woolen mattresses and handmade bedspreads woven on a traditional loom.

To retain Santo Stefano's local character all modern technology is hidden.
Apartments are designed with locally sourced architectural materials. Furniture and textiles are authentic items made from natural resources from the nearby mountains. Sextantio has preserved traces of bygone countryside life in the fabric of the buildings - symbols which evoke the spirit of ancient rural life.
​
La Locanda Sotto Gli Archi
​
Part of the albergo diffuso, La Locanda Sotto Gli Archi is a unique restaurant in a stone dining room with a central fireplace. The furniture is primitive, minimal and antique dark wood, and plates and mugs were inspired by ancient Abruzzese designs. All food is based on what would have been available and eaten back then using native, locally grown crops to recreate original recipes.
​
​
​
Arrival
​
Pick up in Roma Fiumicino Airport. Store your bags with our private driver, and stop for lunch at a typical Roman fraschetta to try bucatini alla Ametriciana and some of the best Porchetta in Italy.
After lunch we head into the mountains to Santo Stefano di Sessanio and check in and welcome dinner in at La Locanda Sotto Gli Archi.
​
Wine Tasting
​
Visit one of the most exclusive wine producers in the region, Cataldi Madonna. Tasting, tour of vineyards, and lunch.
Dinner tonight at La Bettola di Geppetto.
​
​
Market Day & Cooking Class
​
Market visit with Chef Cicala to choose ingredients for today's hands-on cooking class. Make fresh ricotta, "maccheroni alla mugnaia", one of the world's rarest pastas, as well as three other traditional Italian dishes and dessert with Pastry Chef Angela Cicala.
​
Rocca Colascio
​
Climb to Italy's highest fortress for a bird's eye view of Il Campo Imperatore.
Free time and lunch in Sulmona at Trattoria Da Gino.
Concert & dinner with Abruzzese folk band, "Discanto" in Pacentro.
​
Olive Harvest
​
Spend the day among the groves and pick olives, followed by lunch at the farmhouse based on local products. Visit the mill to see the pressing process and taste freshly pressed oil.
​
​
Tastes of Teramo
​
Tour and tasting of Illuminati and Emedio Pepe vineyards in the province of Teramo. Try Montepulciano d'Abruzzo, Pecorino, Trebbiano, and Cerasuolo.
​
Dinner of Teramano regional specialties perfect for fall, including the soul warming scripelle 'mbusse and maccheroni alla chitarra con pallottine. Traditional pizza dolce for dessert.
​
Le Glorie di San Martino, An Ancient Fire Festival
​
Visit La Porta dei Parchi cheese farm in Anversa. Get up close and personal with the sheep and enjoy a cheese making demonstration and tasting.
​
Moving further south into the Parco Nazionale, we visit the ancient town of Scanno. Shop for local specialties such as herbal digestivi, wooden pasta tools, and jewelry particular to this village.
​
Celebrate with the locals as they welcome the winter spirit and honor San Martino the patron saint of the harvest, by erecting enormous bonfires which illuminate the valley. Traditionally, the neighbors come out to the piazza and share their "vino novello", or new wine made from the first pressing of this year's grape harvest. Enjoy roasted chestnuts while gathering around the fire.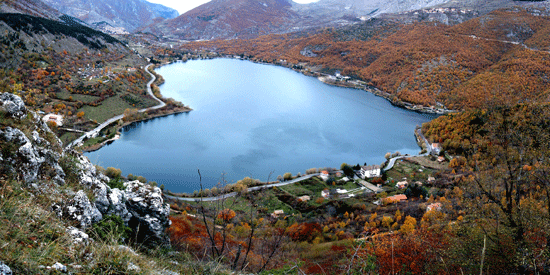 Departure
​
After breakfast, we will depart Santo Stefano di Sessanio and drive you to Roma Fiumicino Airport
or Roma Termini Station, depending on your travel needs.
​
Autumn In Abruzzo
7 night tour rate:
​
$3,600 per person, double occupancy
​
Included in price:
​
7 Nights Accommodation at Sextantio Albergo Difusso.
Superior Room, Queen size bed.
Daily housekeeping, private bath,
TV, Wi-Fi.
Breakfast daily.

4 Lunches & All Dinners.

Wine included with all meals.

Private transportation throughout the tour.

All entrance fees and tours.

All taxes and gratuities.

Airport transfers to and from Rome.
​
Not Included:
International Airfare

Travel insurance
​